The original article can be found here.
Apple campus, Statesman site redevelopment mentioned as major projects to mind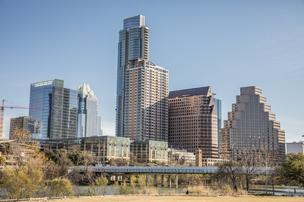 Austin is once again the top market in the country for real estate investment looking ahead to 2020, according to a national study released Sept. 19 by PricewaterhouseCoopers and Urban Land Institute.
The Texas capital climbed up from No. 6 on the last Emerging Trends in Real Estate study. For 2018 it ranked No. 2 and for 2017 it ranked No. 1.
"Development is booming, and the landscape is studded with impactful projects," the new report states about the Texas capital.
The Austin projects named in the report, which is based on a survey of more than 1,500 real estate professional across the world, are Apple Inc.'s forthcoming $1 billion campus in Williamson County, the transit-oriented development proposed for the Austin American-Statesman site, the new Dell Medical School and a major expansion of Austin-Bergstrom International Airport.
"Capital is abundantly directed toward Austin — so much so that some locals wonder about the underwriting assumptions of outside investors," the report states. "Transaction activity in Austin is above what you would expect from a market of its size, and 2019's early results are above the three-year historical average."
In 2020, Austin will be a solid "buy" market for industrial, office and multifamily properties, according to the 41st annual study from New York-based accounting firm PwC and the nonprofit Urban Land Institute.
Austin first appeared in the top 10 of the study about a decade ago, along with larger, mostly coastal cities such as New York City, Washington D.C. and San Francisco, said Mitch Roschelle, partner at PwC and co-publisher of the report. Initially, people thought Austin's appearance was a mistake, he said.
"It's not an aberration at all," Roschelle said, after studying Austin for years. "[Austin] has almost become a force of nature."
Austin's explosive population and employment growth, as well as the continuing diversification of the economy, keep the capital city near the top of the list, Roschelle said.
"The population of Austin is growing at three times the population growth rate of the U.S.," he said. The MSA is growing by about 45,000 people a year, Roschelle added, citing Census Bureau data. The latest federal numbers, released in April, found that the Austin metro population grew by 53,086 from 2017 to 2018, or about 145 a day.
There's so much momentum and potential for economic expansion in Austin that if the overall U.S. economy were to slow, the city would get its first opportunity to prove its resilience, Roschelle said. Historically Austin has fared better than many other cities during recessions, although now the Texas capital is more connected to the global economy than ever before.
On the diversification of Austin's economy, the city also scores highly. It is adding million-dollar businesses faster than any other major metro in the country, according to a recent report from LendingTree. From 2014 to 2016, the number of businesses in the Austin area with revenue of at least $1 million climbed 15.1%.
Paulette Gibbins, executive director of ULI in Austin, agreed that the economy is diversifying. Army Futures Command's entrance into the city last year "represents quite a diversification of job opportunities within Austin," she said.
"They come here, and then they also bring in other companies interested in doing work with them," Gibbins said. "On top of that, Austin has really grown in the bio-tech sector (with the innovation district) and medical school."
Persistent challenges in Austin are traffic and rising housing costs, according to the report.
Gibbins said Austin is at a "tipping point" as it's working to update its land use code, improve public transit and address rising housing costs.
As Austin grows vertically — real estate insiders joke the tower crane is the unofficial city bird — it is also growing horizontally, Roschelle said.
"Suburbs start getting created where there weren't suburbs before," he said. "People start commuting from longer distances where the land and homes become more affordable. That's what tends to happen."
That's already happening in the Austin area as median home prices in the city have reached record highs, according to recent data from the Austin Board of Realtors. As a result, thousands of new homes are being built in nearby cities like Pflugerville, Buda, Kyle and Leander.
---
10 markets to watch in 2020 from Emerging Trends in Real Estate report
1. Austin
2. Raleigh-Durham, N.C.
3. Nashville
4. Charlotte
5. Boston
6. Dallas/Fort Worth
7. Orlando
8. Atlanta
9. Los Angeles
10. Seattle